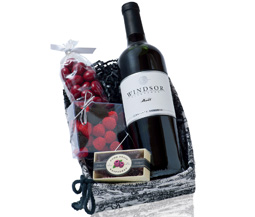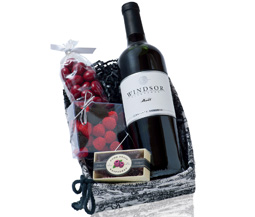 did you create a custom label?
it's easy and free!
YES » Just add your wine selection to the cart, then you'll be prompted to select a label design from your library to add to your wine.
NO » It's not too late. Once you add your wine selection to the cart, you'll be given the option to create a new label.

Windsor Sweet Treat 1-Bottle Gift Set
A swoon worthy collection of sweets and wine.

We're sorry but this product is currently unavailable.
An irresistible collection of delicious sweet treats, perfect for tasting between sips of our classic Merlot, are hand packed in a reusable toile basket for a swoon worthy presentation.
1 bottle 2011 Merlot, California
Raspberry Pome Frais – 2 pieces
Chocolate covered Cherries – 1 package
Sweet berry candies– 1 container
about the wine
Easy going and silky smooth on the palate, our California Merlot offers a harmonious array of jammy berries, black cherry and plum framed by sweet, toasty oak.
about the food
We've partnered with local purveyors to send you the finest from wine country. Chocolates and baked goods are hand crafted using fresh ingredients, real butter and organic wheat flour.
Please note: This item cannot be personalized online. To order with custom labels, please call us at (800) 289-9463.
wine facts
Wine Type: Red
Bottle Size: 750ml
Vintage: Non-Vintage
Alcohol content: 13.5
Custom Label: no
Custom Etching: yes
Flat rate shipping charges apply per the total number of bottles (750ml in size) sent to a single address. Shipping rates vary for large format and mini-bottles. Discounted prices are as listed and are not combinable with other savings or discounts. Vintages and wines may be substituted as required.