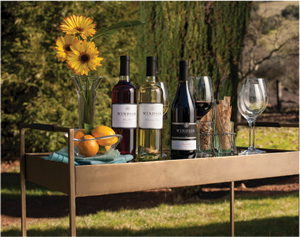 Stock a bar cart with your favorite wines, snacks and glasses. Include a variety of red, white and rosé wines and small snacks such as fruit, cheese or nuts. Guests can help themselves allowing you to focus on the grill while they enjoy the spread.

Crowd Pleaser for the Cart
2012 ROSé
NORTH COAST, $16.00
Classic rosé is a great addition to any occasion, from a backyard barbecue to an elegant evening under the stars. A great alternative to white, this wine pairs nicely with smoked salmon, ribs and a variety of cheeses.