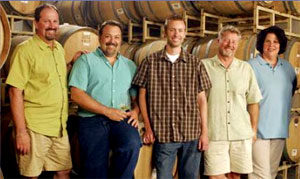 Meet the Winemakers:
Marco DiGiulio, Tim Milos, Zach Long, Tony Austin and Nancy Walker.
Our winemaking team lives up to the task of creating wines of rare precision. Under the direction of our Senior Winemaker Marco DiGiulio, our team's combined years of experience, along with our new state-of-the-art winemaking facility enables Windsor to craft wines of true excellence.
Marco developed an in-depth knowledge of winemaking and viticulture through education and experience in the industry. He graduated with a degree in Fermentation Science from the University of California at Davis in 1985. After two years at Buena Vista Winery, Marco worked as cellar master at Pine Ridge Winery for more than four years. He next served as the production manager for Atlas Peak Vineyards, followed by his 1994 appointment as winemaker for Pezzi King Vineyards. Just before the 1995 harvest, he became the winemaker at Pepi Winery in Oakville. While making Pepi Wines, he also took charge of the Lokoya brand after the death of celebrated winemaker and mentor Greg Upton. It was at Lokoya that Marco's reputation for making world-class Cabernet Sauvignon was first established when his 1997 Cabernet Sauvignon received an unprecedented 98 points in the Wine Spectator.

Now, as a wine industry veteran, Marco has been able to turn his attention to consulting for a handful of wineries in the North Coast region. His impressive list of clients includes both well-established and new wineries in Napa and Sonoma counties. He is also a managing partner in Bin to Bottle, the Napa Valley custom crush facility.

Most of Marco's wines score consistently in the 90's among top critics, and in November, 2007 the Wine Spectator named Marco DiGiulio "one of Napa's leading wine consultants". His wealth of experience and love of winemaking enables him to craft the finest wines from the rugged landscape that provides his inspiration.