Truffled Wild Mushroom Mac'n'Cheese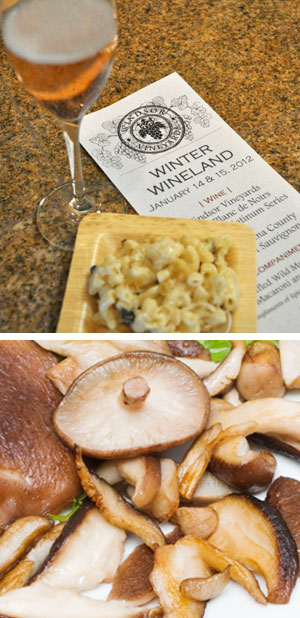 This recipe was featured at the 2012 Winter Wineland Event at the Healdsburg Tasting Room and has been provided by the very talented Chef Matthew Paille from Epicurean Escapes Catering in Healdsburg, CA. Chef Paille's recipe below recently won best competitor 3rd Annual "Mac Off" Gourmet Mac 'n Cheese Competition in Healdsburg, California.

Ingredients
2 cloves garlic, minced
1 small shallot, minced
1 tbs good quality extra virgin olive oil
2 tbs butter
3 cups macaroni noodles, cooked al dente
1 tbs flour
1 cup heavy cream
1 cup shredded mozzarella cheese
1/2 cup grated Parmigiano Reggiano
1 cup exotic mushrooms such as: Crimini, Chantrelle, Lobster, Shitake, or a mix of your favorites; thinly sliced
1 tbs white truffle oil
1 tsp truffle salt
1 package Enoki mushrooms
kosher salt to taste

Directions
1. Heat 1 tbs olive oil in a medium sized sauté pan on high heat until oil is shimmery. Add mushrooms to pan, do not stir for one minute. Add 1 tbs butter and then stir the mushrooms and season with kosher salt to taste. Sauté for 3-4 minutes longer until cooked through and slightly caramelized. Remove mushrooms from the pan and set aside.

2. In the same sauté pan heat the remaining olive oil and butter over medium heat, add the garlic and shallots and sweat for 3-5 minutes, or until opaque.

3. Add flour to pan and cook for 3-5 minutes more. With a wire whisk, slowly whisk the cream into flour/shallot mixture, add a generous pinch of Kosher salt to taste. Bring sauce to a gentle simmer and add the cooked and drained macaroni noodles, 1/2 of the cooked mushrooms and all of their juices.

4. Add the cheeses and truffle oil then mix to combine. Place macaroni and cheese into a medium sized casserole dish, top with remaining mushrooms. (This step can be done up to one day in advance) Bake in a 350 degree oven 15-20 minutes, or until browned on top. When plating, garnish with raw Enoki mushrooms and truffle salt.

Pair with 2008 Windsor Blanc de Noirs, Carneros, Platinum Series.