The Windsor Vineyards Story
Celebrating 50 Years!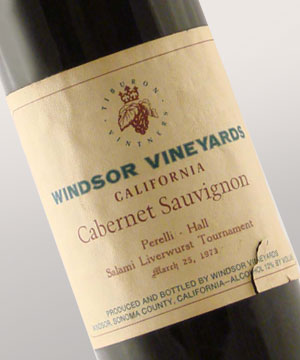 From the Cellar
:A 1972 Windsor Vineyards Cabernet Sauvignon custom-labeled for a Salami & Liverwurst Tournament.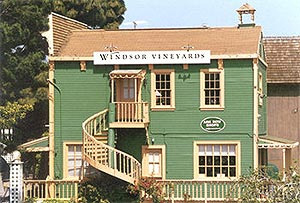 Rodney Strong's original
home, office and tasting room in Tiburon, California.
Discover what makes us unique among all the wineries of the world! When you serve or give a wine with your name on the label, our long tradition of highest quality and greatest value says a lot about you.
A Long Tradition of Great Winemaking
Windsor has been among the top three most award-winning wineries in the U.S for over 50 years. Founded by wine legend Rodney Strong in 1959, on San Francisco Bay in Tiburon, his philosophy has continued throughout the years to present. Once owned by Beringer Blass Wine Estates and now as part of Vintage Wine Estates, we not only place great emphasis on investing in barrels, vineyards and technology but also on providing wines to you directly. Our goal is simple - to make wines you'll love, accessible and affordable.
Custom Labels are Part of Our Heritage
In the early days, so many customers asked Strong to reserve their favorite wines that he started putting their names on the labels. One innovation followed another when customers bought the wines for personal use and for holiday gift ideas. Personalized wine labels and shipping directly to customers or gift recipients began, and so was born the Windsor Vineyards tradition.
Our Customer Philosophy
We believe that wine should be easy and accessible, whether you live nearby or across the country. Plus with no middleman, you save money and can buy the way you prefer.
We have proudly served our customers via catalog, mailings and telephone for over 50 years.
Windsor Vineyards Today
Today, we are one of the few producers who specialize and offer custom corporate logo labels, custom labels for wedding favors and holiday wine gift ideas.

Now owned by Vintner Patrick Roney, Windsor's long traditions of serving consumers and businesses directly, producing incredible wines and offering personalized wine label opportunities, continue. Roney has expanded his vineyards and expertise and now owns ultra-premium Girard Winery in Napa Valley, Cosentino Winery, Sonoma Coast Vineyards, and more under the Vintage Wine Estates umbrella. This family of small wineries provides buying leverage and wine expertise at world class levels. All the savings and knowledge are passed on to you.